Tax Season Resources
File Exchange
Knoble Ingle CPAs offers a secure file exchange service for our clients who choose to use electronic portals. This service is provided by a third party that also provides us with our income tax software. File exchange allows you to send us files securely, without using email (ShareSafe).
We never recommend clients send us any documents through email that may contain personal or company identity information because email is not secure. Clients may use the file exchange system more than once to send files, and this is the only way to send us large files.
To send us files safely, use the File Exchange button or this link.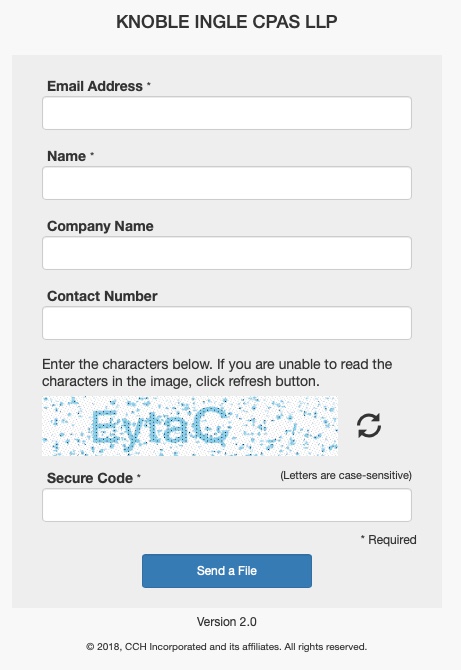 Clients do not need a prior account to send us files, so a financial advisor could also use this to safely send us documents.
Enter your email address, your name, company name if applicable and a good phone number to call should something not work properly.
Input the Captcha letters which are case sensitive. Use the refresh symbol if the letters are hard to read.
Click on the Send a File button when done.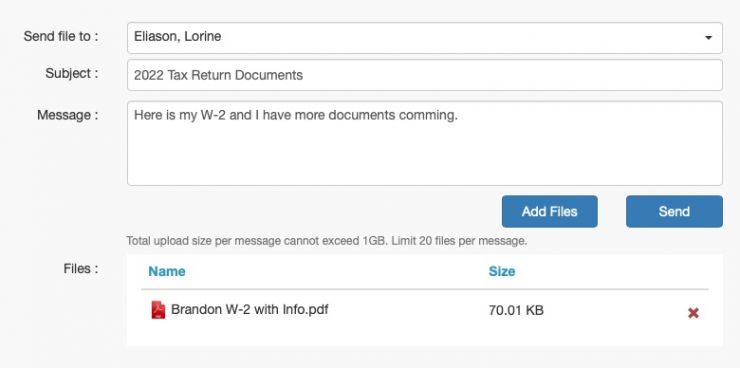 Another screen will allow inputting the person at Knoble Ingle to receive the files. Select a Knoble Ingle employee through the drop down.
Input a subject line and a message to help us understand if additional documents are still outstanding, or if this is the last document needed. Include any helpful information.
Adding files can be done with the Add Files button to select from a hard drive, or dragging and dropping the files in the open area. Either method works and multiple files should be sent in one session.
When done, click the Send button and the file exchange is complete.
---
Upload all your files in one session. It is not necessary to upload one file at a time, which actually causes more work for both of us! If you want to segregate your files by person or company, then you may need to upload all your files for each person or company separately.
×