Your Resources
Portal Help
Portal Basics
Portal Basics
Portals provide you, as our client, a kind of temporary cloud storage where you can receive a tax return with documents to sign or estimated coupons to use. You can receive a copy of your audited or reviewed financial statements, powers of attorney to sign, your tax return, or other deliverables we engage to provide to you. Below are some basics for using our portals. You can also use your portal to send us electronic files through the secure file exchange.
When you log in to your portal, this is an example of your Home screen.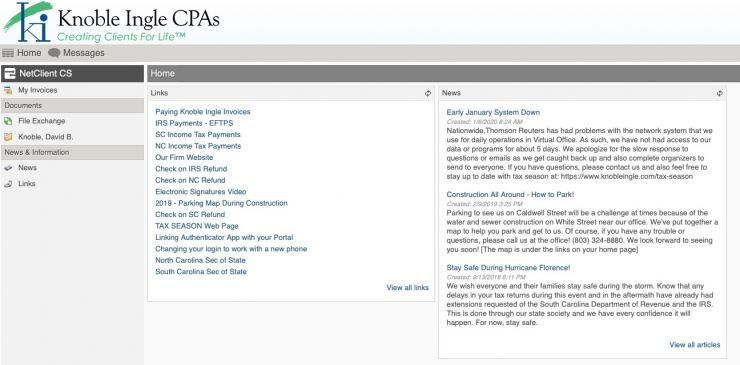 Your portal is divided up into three sections. The left side contains links to send files through file exchange, to see your documents through our document presentation, and to see the news items and helpful links we send you. Note we no longer use the My Invoices section and clients can pay all invoices through CPA Charge. We have a Pay Invoices $ button in the client toolbar at the top of this website.
The middle and right-hand sections actually contain the links and news. Links contain easy ways to get to items we believe might help you and our news items typically contain information about tax season, the office, or construction, and other downtown Rock Hill items that could affect getting to our office. You can click on any of these for more information.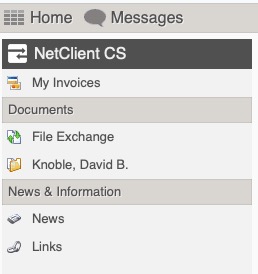 This is the left-hand side which contains the links we listed above. Note the Home button and Messages button at the top where you can always get back to your starting point and see any system messages about your password or other items.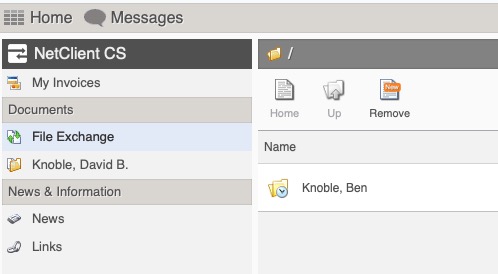 When you click the folders for your personal or company information, you see a screen that looks like this one. You can continue to click down into the folders and see files, frequently ordered by year-end or another date.
The Up button will take you up a level until you get to the top level of directories.
The Remove button will remove any of the orange flags. Each time we send a file to your portal, it is flagged with orange to let you know that it is a new file. If you see orange numbers, that is the number of new files we have uploaded for you!
---
To learn more, read our Frequently Asked Questions about Portals. Also, be sure you understand our Client Portal Agreement and Use Policy. Please feel free to contact us about any questions you may have!