Tax Season Resources
Electronic Signatures
Electronic signatures can be requested for engagement letters and for Form 8879 authorizing us to e-file your income tax return. The method for putting your signature on a document is the same.
We will need your email address and your spouse's email address in order for the signatures to properly work. This is because the system has to know who is signing the document to ensure proper authorization. If you have questions, please let us know!
If you do not want to sign your engagement letter or Form 8879 electronically, please let us know and you may sign a paper copy and deliver that to us. The electronic process is setup for your convenience so that you do not need to scan or send us paper.
×

To start the electronic signature process, you will receive an email alerting you that we need your signature. Carefully read the email and contact us if you are unsure whether the email is valid. If you decline the signature, your return may not only be delayed, but we will need to regenerate and send the request which can take a day or more.
When you click on the email link, you will go to a third party website which will verify your identity through a few steps and let you read and sign the document before sending it back to us.
The first step lets you know that we sent you the request to sign a document and also lists the document we want you to sign. You will have an opportunity to review the document prior to signing it.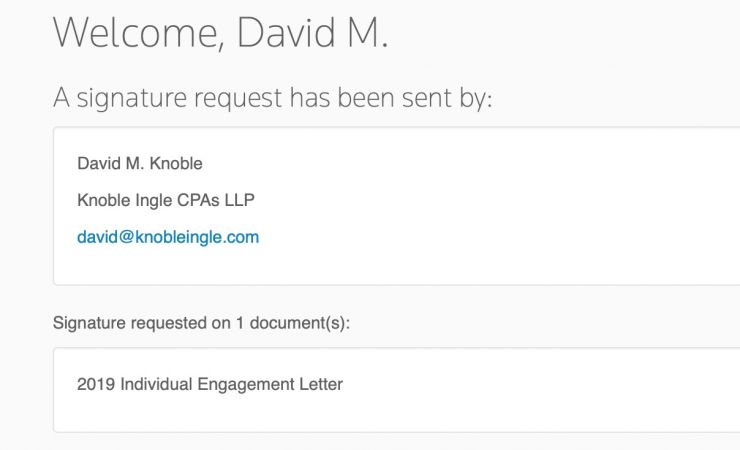 Next, you will need to sign an electronic record & signature consent disclosure that informs you, among other things, that signing the document electronically carries the same weight as signing with a pen and providing us the paper.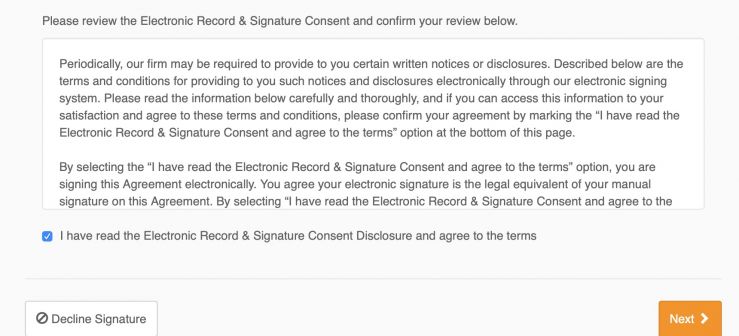 You will then be asked to input the last 4 digits of your social security number. This information is not transmitted or verified by us. Our third party uses a system, such as verisign, to determine who you are based on your SSN and then confirm your ability to sign the document. This is also why we need separate email addresses for you and your spouse (if applicable).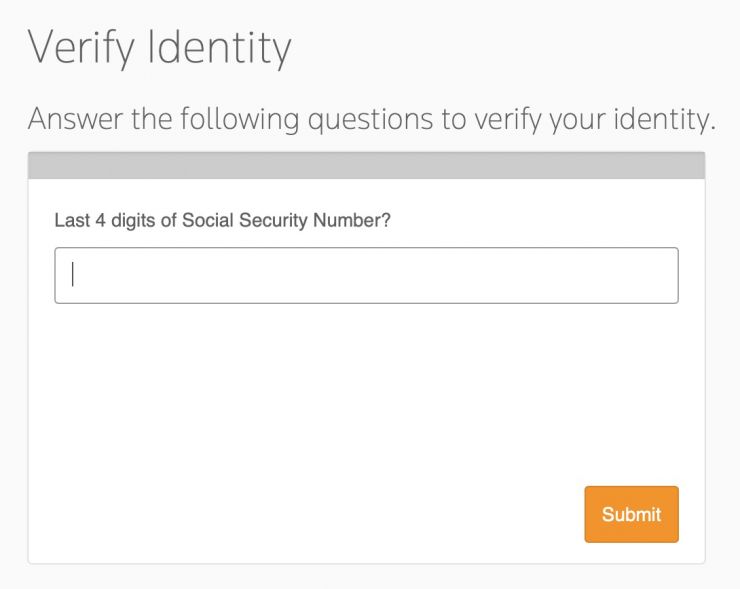 You may be asked some questions based on your information, which are all created by the third party system, such as verisign. When completed, you will see a note indicated your identity was verified.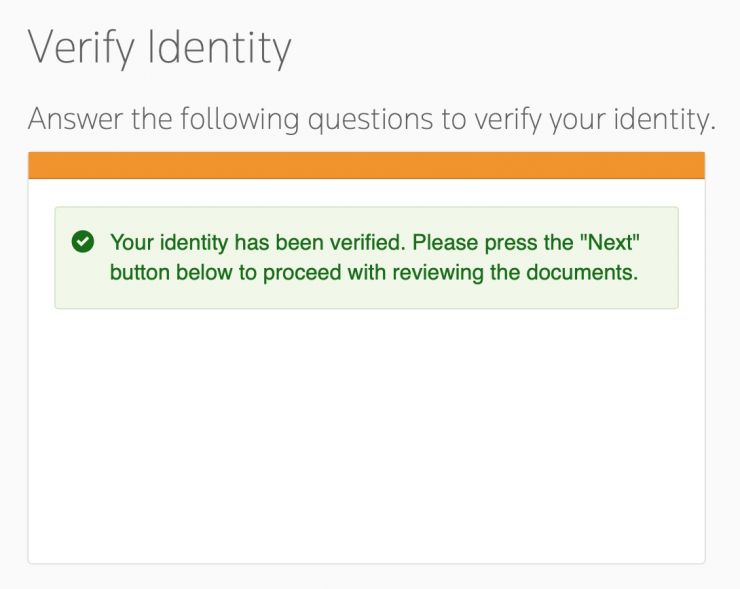 You will then be able to review the document we requested you to sign. It will be listed as either an engagement letter or a Form 8879. You can click on the 'Review Documen' link to see and read the document. After your review, check the box indicating you have reviewed the document. Then you may click the 'Next' button.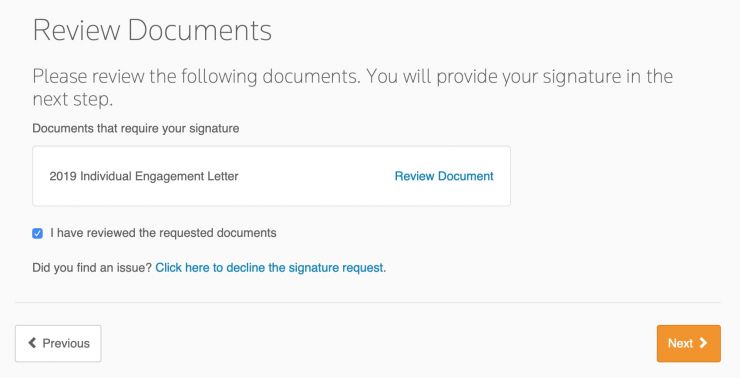 You may sign your document by either typing your name and choosing a script font, or by drawing your name on the screen with a mouse, tablet pen or your finger. Either one works and both count as your signature of the document. When done, press the 'Next' button. Almost finished!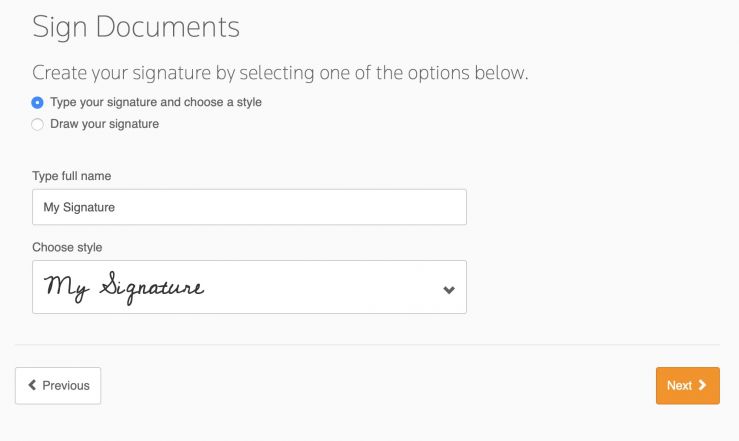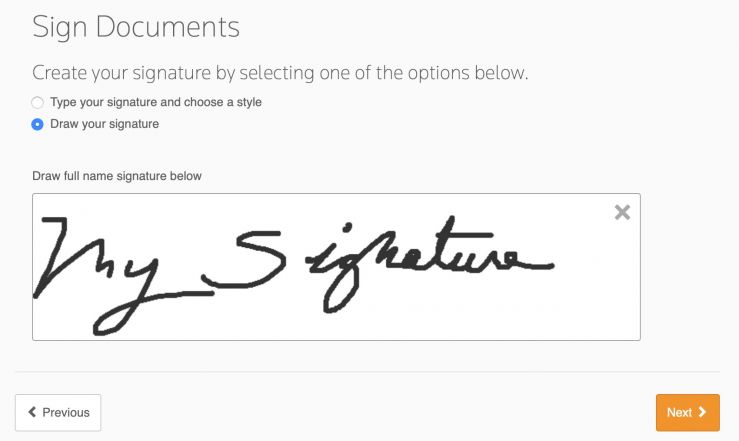 This is the final step! You have another opportunity to review the document, with your signature showing ion the document. After your review, you should click on the checkbox indicating you reviewed the document and are satisfied with the signed copy. Then press the 'Submit' button and it wil be sent to us to store!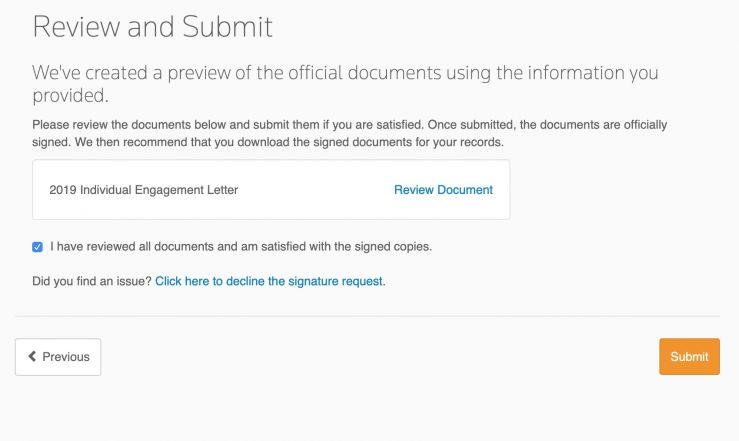 DECLINE - If at any time you prefer not to sign the document, you can select the links provided to decline the signature request. However, declining the signature will mean that your tax return will be delayed. If you decline signing the engagement letter, we will not begin preparation of your tax return and you may incur penalties and interest if it is filed late. Please contact us prior to declining signature so that we might answer any questions you have.
×